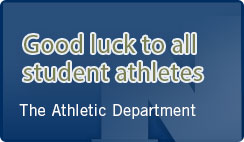 2020-2021 Boys Swimming & Diving
Congratulations to Michael Bohlke for earning All-Conference recognition for his first place finish in the 500 freestyle at our regional meet!
Practice Schedule:
Week of March 22nd:
Monday: 4:00-5:30
Wednesday: 4:00-5:30
Friday: Last Practice/Awards 3:30-5:30
Upcoming Meets:
Tuesday, March 23rd: Home vs. Classical Magnet 5:00 pm
Thursday, March 25th: Away @ Conard 3:45 pm
Practices will begin promptly, so you should arrive 5 minutes prior to the start time. We do not currently have access to the locker rooms, so please arrive at practice in your suit. Make sure to have a cap, goggles, and water bottle with you at all practices. You will not be allowed to practice without a water bottle! Please continue to fill out your Wellness Self Assessment daily, wear your mask, and practice social distancing on deck.
The following consent form must be completed before you are able to participate in practice:
****All information is subject to change****