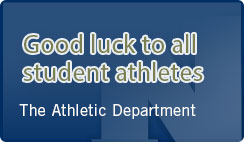 More Events

V Boys Swimming & Diving vs Conard

12/19/2023
4:00 pm
Home - Newington HS Pool


V Boys Swimming & Diving vs Enfield/Ellington/Suffield

1/5/2024
4:15 pm
Home - Newington HS Pool


V Boys Swimming & Diving @ Southington

1/10/2024
3:45 pm
Away - Southington YMCA


V Boys Swimming & Diving @ Bristol Eastern

1/16/2024
3:45 pm
Away - Denis Malone Aquatic Center


V Boys Swimming & Diving vs Plainville

1/19/2024
4:00 pm
Home - Newington HS Pool


V Boys Swimming & Diving @ Hartford Public

1/23/2024
4:00 pm
Away - Hartford Public HS Pool

2023-2024 Boys Swimming & Diving
New swimmers & divers interested in joining the team should reach out to Coach Crystal via email at cconnery13@gmail.com for more information! Swimmers & divers of all ability levels are welcome!
Practice Schedule:
*Please make sure to come prepared to practice with a swimsuit, goggles, towel, and water bottle! NHS caps are available at the pool.
Week of November 27th: Th-F 3:00-5:30 pm, S 8:00-10:30 am
Week of December 4th: M-F 3:00-5:30 pm, S 8:00-10:30 am
Important Dates:
Registration: Due by November 20th
First Day of Practice: Thursday, November 30th @ 3:00 pm
Alumni Meet: Friday, December 22nd, 4:30 pm warm-up, 6:00 pm start
Congratulations to Kuba Latawiec who set a new school record in the 500 free with a time of 5:02.80!
Congratulations to Sam de Malas Pedre, Kuba Latawiec, Will Lubas, and Filip Nadratowski for earning All-Conference recognition in the CCC North. Nadratowski finished 2nd in the 200 IM and Latawiec finished 2nd in the 500 free. All four athletes swam on the fastest 400 free relay in the conference this year with a time of 3:29.03.
Newington was very well represented in the Class L championship meet this year. We had 7 individual athletes qualify to compete at trials, and 5 qualify to compete at finals. We also had 3 relays place in the top 16. Jake D'Amato finished 13th in the 100 breast and 28th in the 200 IM, Sam de Malas Pedre finished 26th in the 200 free and 30th in the 100 fly, Kuba Latawiec finished 18th in the 200 free and 8th in the 500 free, Will Lubas finished 20th in the 200 free and 24th in the 100 free, Filip Nadratowski finished 16th in the 200 IM and 18th in the 100 back, Gerick Napuli finished 34th in the 500 free and 26th in the 100 breast, and Matt Vuong finished 24th in the 50 free and 30th in the 100 free. The medley relay team of Nadratowski, de Malas Pedre, D'Amato, and Vuong finished 10th, the 200 free relay team of Vuong, Jayden Lu, Latawiec, and Lubas finished 13th, and the 400 free relay team of de Malas Pedre, Lubas, Nadratowski, and Latawiec finished 10th.
All Varsity sports contests will be live streamed on the Newington High School YouTube Page.
Visit and subscribe at http://youtube.com/newingtonhighschool605 for all of your Nor'easters Sports Coverage!
****All information is subject to change****